"Fall" Into The Harvest Season With Ease
Posted September 27, 2016 by admin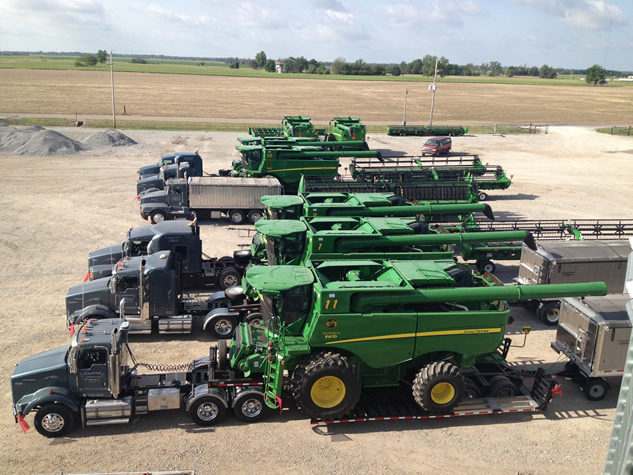 "Fall" Into The Harvest Season With Ease
It's that time of year again, the transition from summer into autumn.
What does that mean for harvest truckers and commercial truckers? It's time to get your rigs ready for the months of September through December.
Importantly, what does that mean for your rig?
The trucking industry makes our harvest seasons possible by transporting raw food to manufacturers. In 2008 alone, over 2.4 billion bushels of wheat were harvested.
How harvest trucking works, specifically grain harvesting, combine harvesters reap grain into their hoppers. The hoppers then dispense the grain into trucks to be transported to mills and refineries all over the country to make our foods. Without our nation's dedicated truckers, many foods that we enjoy today would not be able to be produced.
The legal weight limit of grain in a truck, with the proper permits, varies from state to state. Some states will even allow up to 120,000 lbs. of grain—that's equivalent to a truck pulling over 30 cars!
That is a lot of added wear and tear, weight, and stress added to your truck, which increases the chance of rollover, contributes to worn brakes, tire wear and blowout, and uneven suspension.
Before you start hauling this harvest season, have your truck serviced to prevent any surprise breakdowns. Premature wear already ensures a high risk of failure in your truck's parts. Roll into this harvest season ready to handle whatever the weather is going to throw at your truck.
Is your semi due for an alignment repair, spring repair, or suspension repair this coming harvest season? Check your service log and odometer to see if it's time to bring your truck into the shop. Schedule with Smith Springs, and we'll make sure your suspension is good to go, so you can get back out on the road.
At Smith Springs, we are dedicated to getting you back on the road—same day, guaranteed. Our technicians are experienced and devoted to ensuring your rig is safe and ready to get back on the road.